S&W Collector Firearms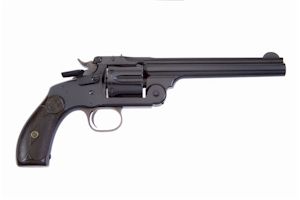 The David Carroll Collection represents over 30 years of careful trading in antique firearms and related items, particularly Smith and Wesson firearms of all types.

We are always seeking fine engraved Smith and Wesson firearms made from 1852 through 1898, and buying, selling and trading all other collector Smith & Wesson's, related items and accessories made from 1852 to 2002.

The year of 2022 is David Carroll's 39th anniversary as a member of the Smith & Wesson Collectors Association, where he has been a Life Member for many years. David is also a Benefactor / Founding Member of the Smith & Wesson Historical Foundation, a 501(c) (3) Charitable Foundation which provides funding and guidance for the preservation and research of historical materials of Smith & Wesson, in conjunction with the Connecticut Valley Historical Museum, Springfield, Mass. In addition he is a Life Member of the NRA, the Alabama Gun Collectors Association (AGCA), where he served a term on The Board of Directors and previously served as a member of the Gun Show Committee. Life Memberships in other gun collecting organizations include; Ohio Gun Collectors Association (OGCA), Southeastern Antique Arms Collectors Association (SAACA), the Texas Gun Collectors Association (TGCA) and the Colorado Gun Collectors Association (CGCA). David is also a member of the American Society of Arms Collectors (ASAC), New England Antique Arms Society (NEAAS), Colt Collectors Association (CCA), and the Tulsa Arms Collectors Association (TACA).

David has been a Life Member of the Collector Arms Dealers Association (CADA) since 1984. A member of the Board of Directors from 1988-1991, he was appointed again to the board in May 2005, to fill an unexpired term. Elected to a full term in December 2005, he was selected by his fellow board members as President of CADA in May 2007 and served the firearms collecting fraternity from that position until 2013 in the effort to further improve the integrity of relationships between dealers and collectors, so that all may benefit from honest and fair transactions.

Our inventory for sale - as well as prime examples from David's personal collection - is routinely displayed at popular antique and collectable firearms shows throughout the United States. This website, coupled with our periodic catalogs, and attendance at major shows adds a new venue to the ongoing endeavor to have the finest collectable firearms to satisfy the wants and needs of every collector.
Telephone: 205-531-7002

Fax: 205-467-9414
Address: CPM. Inc. 
73 Argo Park Drive
Trussville, Alabama  35173 USA
This web site designed, hosted and managed by Sensible Technology Services, LLC